Erwin Sattler
Regular price
$22,800.00 USD
Regular price
Sale price
$22,800.00 USD
Unit price
per
Sale
Sold out
THE FUSION OF ELEGANCE AND UNCONDITIONAL QUALITY – THE MODERN PRECISION CLOCK EMBELLISHES EVERY LIVING AREA IN A CONTEMPORARY WAY
Opus Metallica 100, the latest precision pendulum clock from the manufactory Erwin Sattler Munich. With the new caliber 2005-M ticks a clockwork inside, which thanks to its high-quality workmanship and the use of the best materials, achieves an accuracy of 3-4 seconds / month.
In addition, it owns the appealing complication of a moon phase indication. The 5/6 seconds pendulum movement benefits from more than 35 years of experience in the construction and implementation of high precision pendulum clocks and ensures a power reserve of 28 days.
The connaisseur enjoys an unobstructed view of the inside quality of the Opus Metallica 100. The special construction of the case with a frameless glass door, made of anti-reflective mineral glass, passes the way not only for a reflection-free view of the fascinating mechanics. In addition, the two-part dial impresses with its fascinating depth, the modern hands and the hand-painted moon phase indication.
As usual at Erwin Sattler, the crank and other useful accessories are hidden in a compartment in the bottom of the case.
Aesthetic, elegant, noble, all these terms are perfectly applicable for the refreshingly modern clock. The Opus Metallica 100, which is available in two versions, is therefore a harmonious addition to any ambience, regardless of new or established, modern or classic.
HIGHLIGHTS
5/6 second pendulum clock with temperature and air-pressure compensated pendulum
28 days power reserve
Hand polished cassette in the case back, metal inlays
Accessory compartment in the bottom
Share
View full details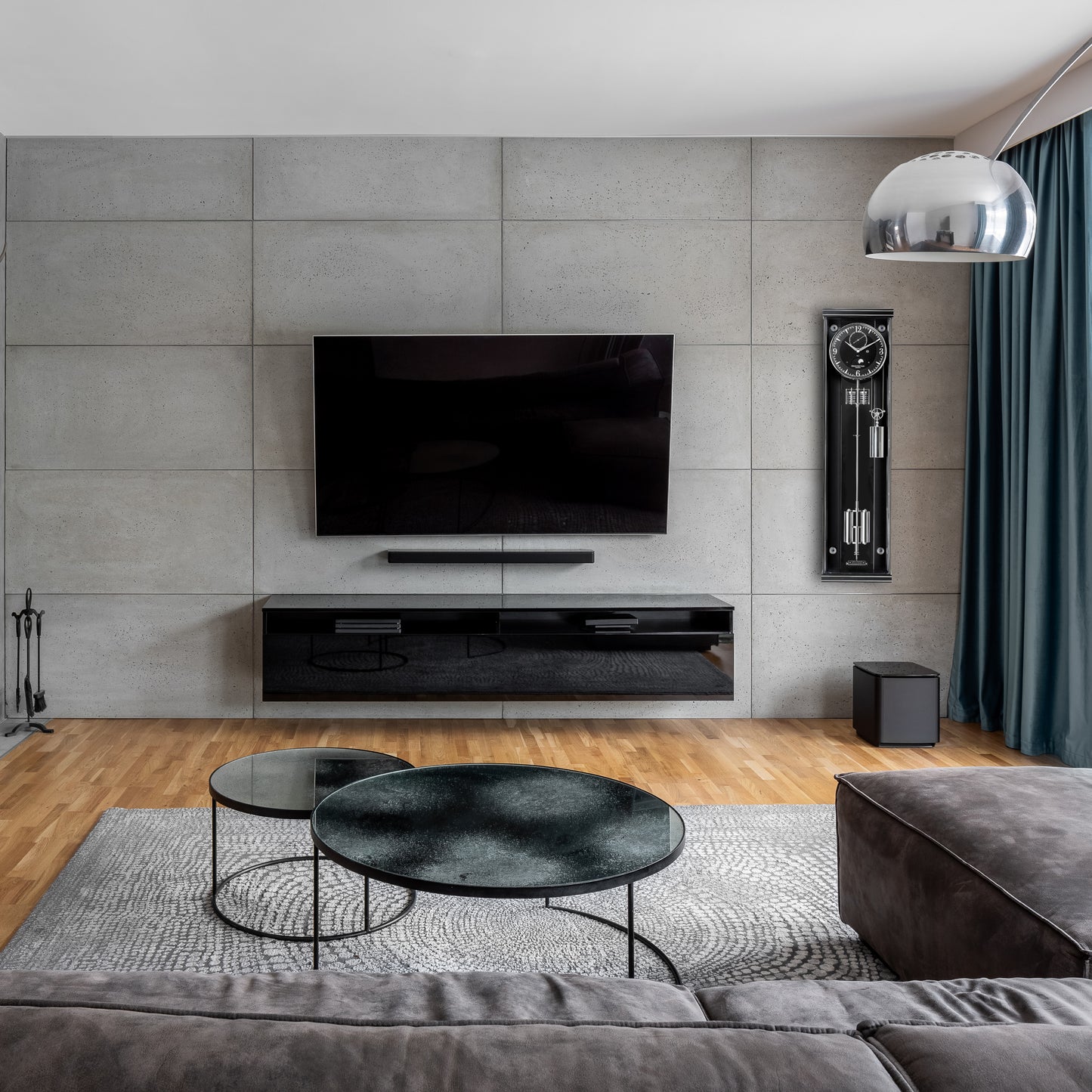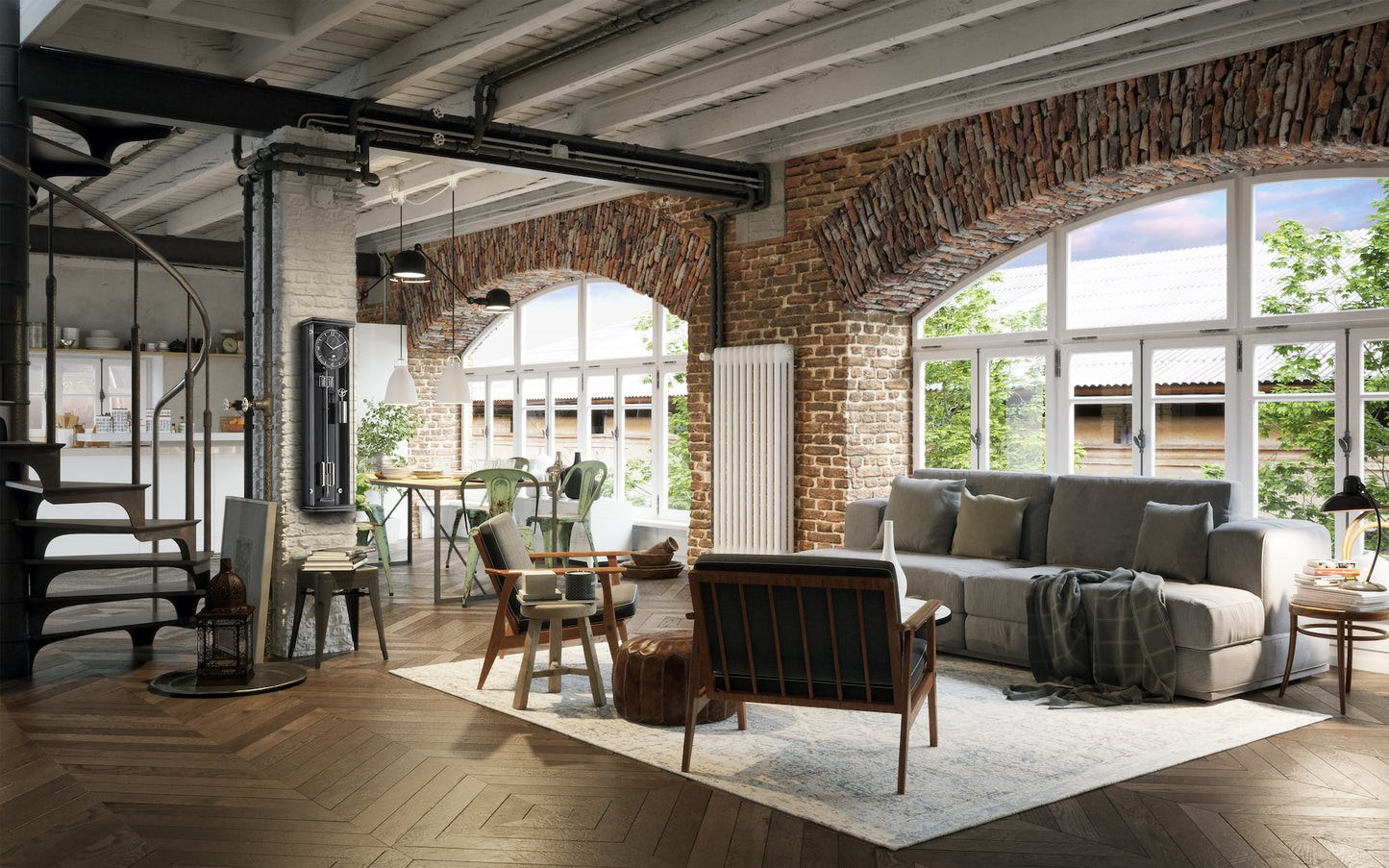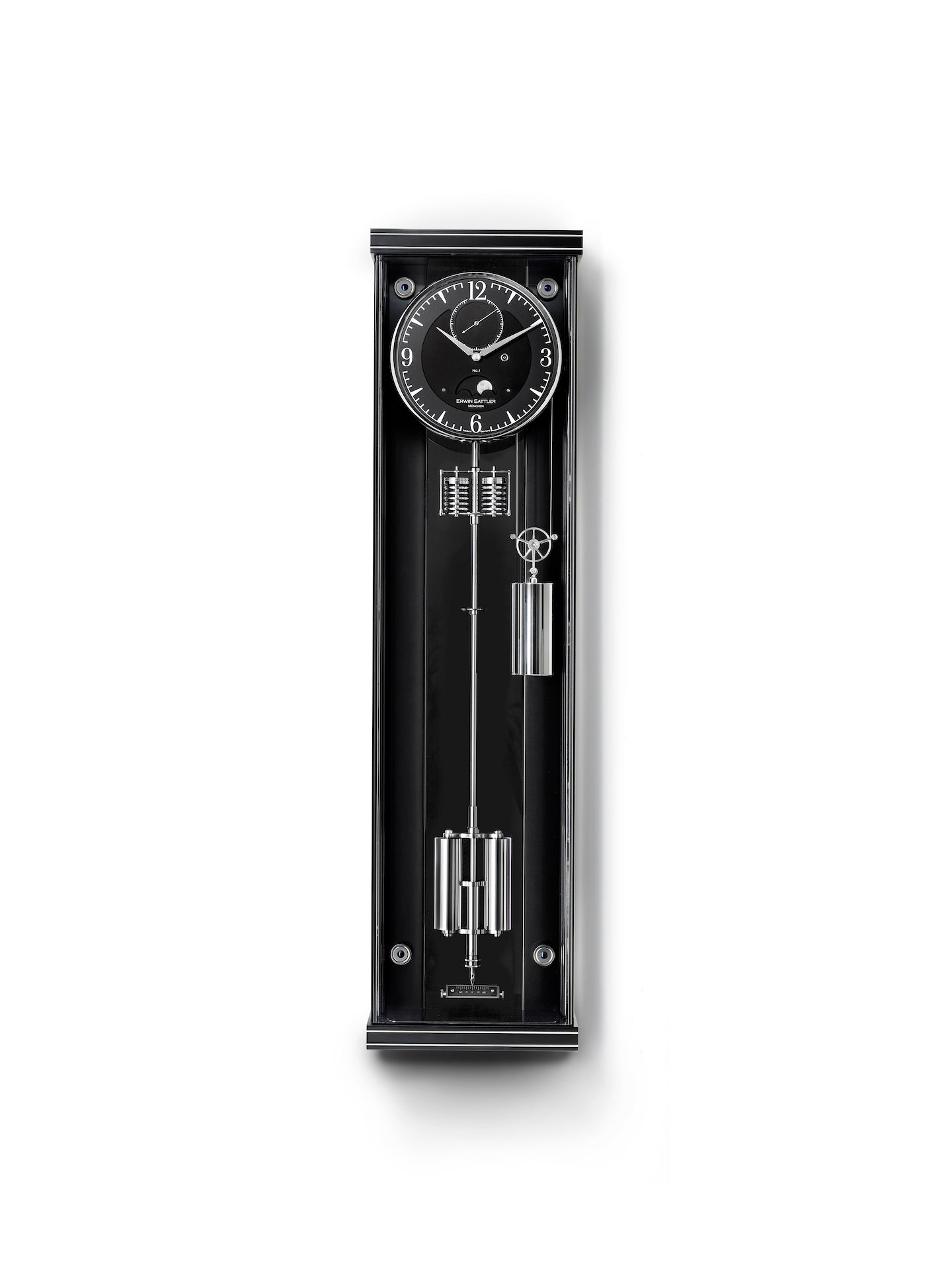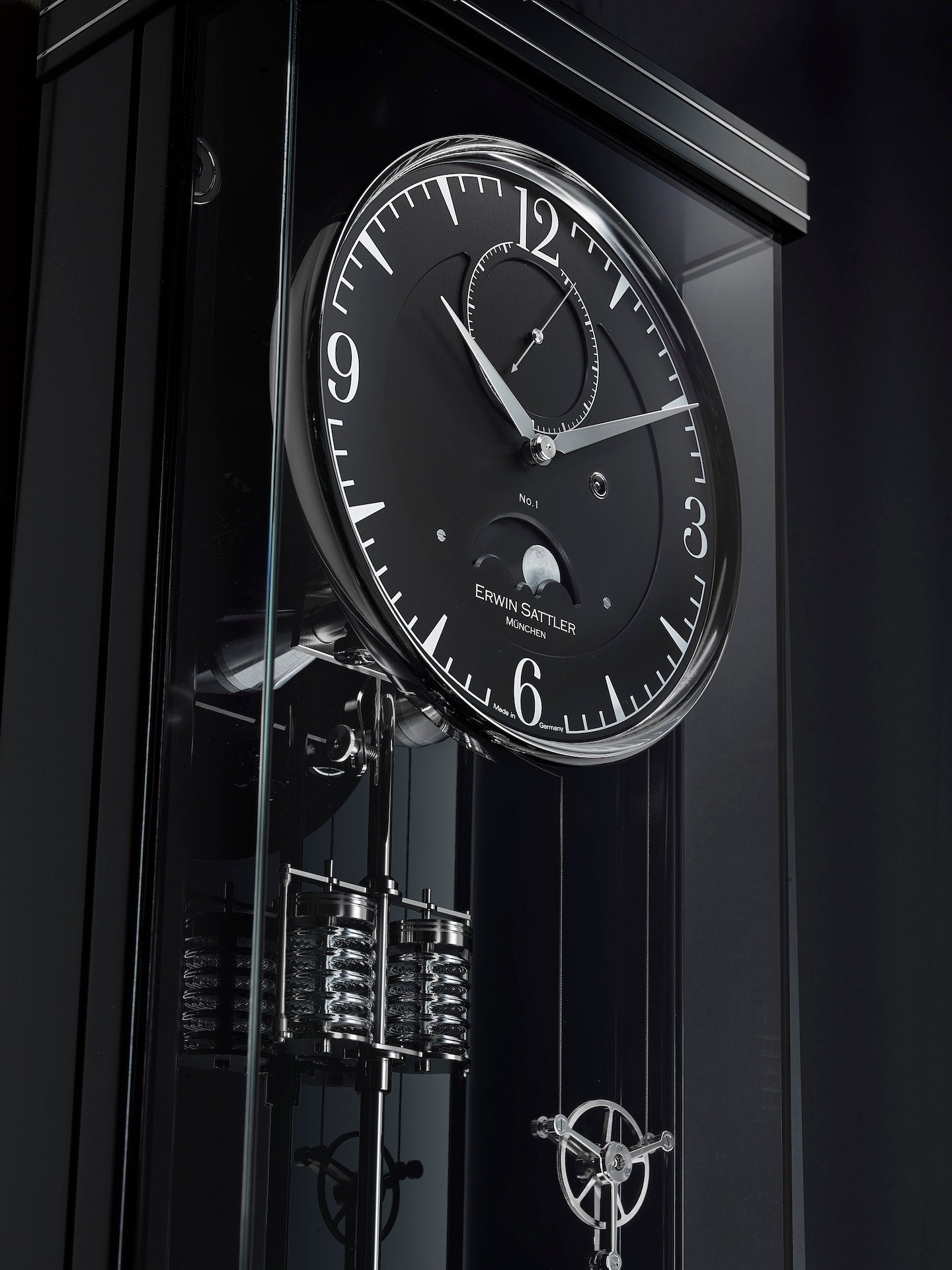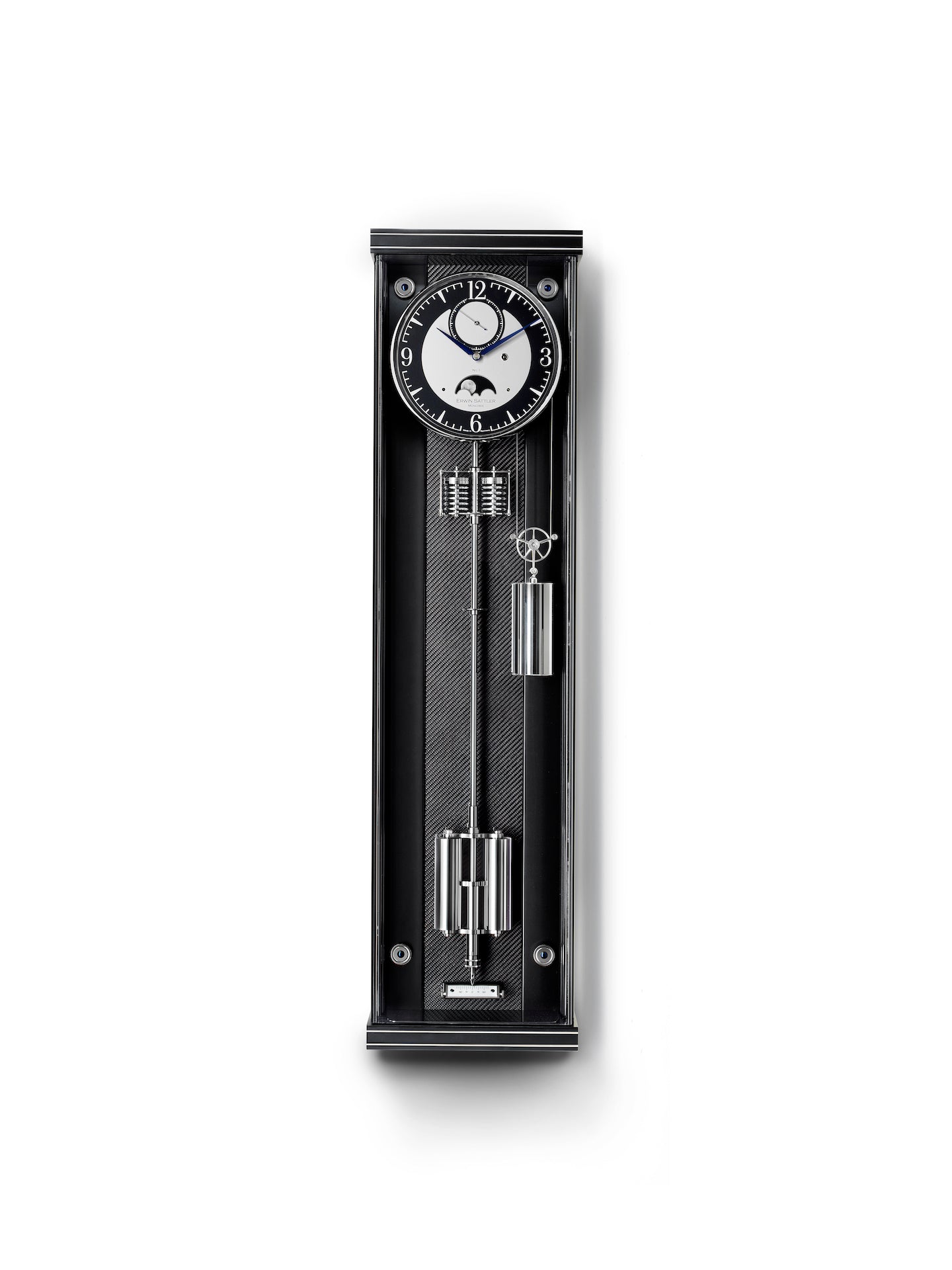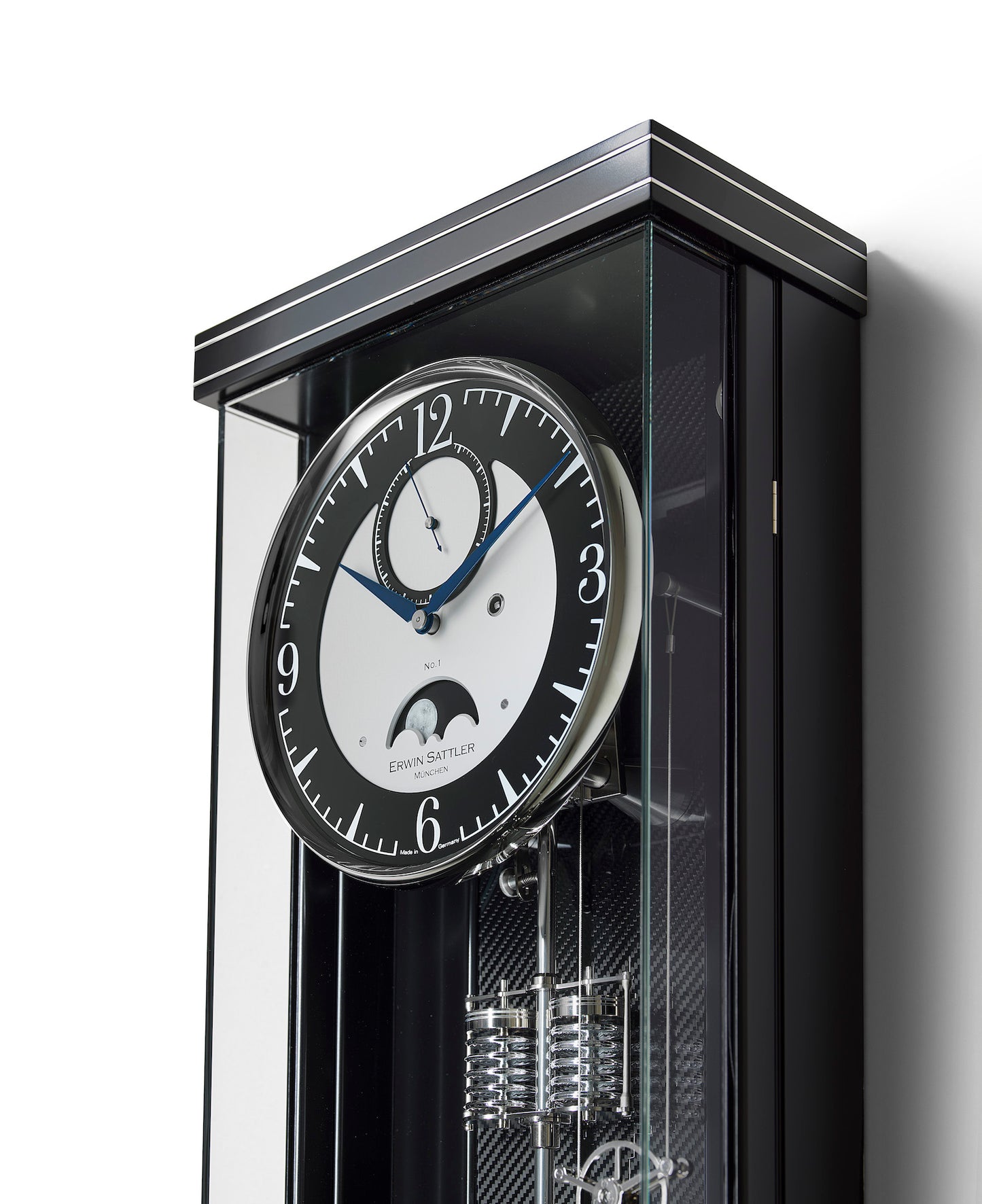 Treasures are kept safe and hidden inside a fascinating and impressive precision pendulum clock
The Troja Sonata M, a precision pendulum clock with half-hour impact mechanism and moon phase display. As an imposing grandfather clock, it can also hide the most secret treasures … In addition, the video also shows the Secunda Sonata, the counterpart as a classic precision pendulum clock for the wall.