Erwin Sattler
Regular price
$145,000.00 USD
Regular price
Sale price
$145,000.00 USD
Unit price
per
Sale
Sold out
ENOUGH SPACE FOR ALL TREASURES – THESE TWO ROTALIS MODELS IMPRESS CUSTOMERS WITH THEIR GENEROUS SPACE, FASCINATING APPEARANCE AND IMPRESSIVE TECHNOLOGY
The Rotalis 30 is a masterpiece based on the expertise of the clockmakers, precision mechanics and electricians from the clock manufacture, Erwin Sattler. Similar in appearance to two modern flat screens, two 18 mm thick bulletproof glass plates protect the hidden treasures inside. These only become visible in the light of the 100 LED lamps in the cases.
Three precision instruments adorn the elegant front. The decorative Navis 24 is centrally fitted and originates from the mechanical marine clock industry, with eight days of power reserve. It is beautifully completed with a barometer and thermometer to the sides. The central decorative cover allows an individual design of the watch winder in various polished precious wood versions, such as walnut, maple, black with metal inlays or carbon.
A fingerprint reader is located beside the case. When an authorised person lays their finger on this, the two heavy safety glasses move upwards and downwards at the same time and offer a view of the 30 watch winders with the valuable timepieces. Alternatively, the Rotalis 30 can also be opened using remote control. Thanks to the Sattler-Beluwo® watch winder technology, which is protected by the German Patent and Trademark Office, the rotational speed and direction of rotation can be precisely controlled for each of the 30 electric motors. The data from more than 7000 different automatic wristwatches can be transmitted directly to the watch winder from the enclosed database from any PC via WLAN.
In all versions and dimensions, the Rotalis 60 corresponds to the Rotalis 30. However, the number of built-in watch winders is twice as high. There is no need to store 48 hand-wound watches or other valuables such as rings, chains or cufflinks due to the additional 30 watch winders.
HIGHLIGHTS
WLAN technology for individual programming
Identification by a fingerprint scanner
Four-layer safety glass
The own house alarm system can be connected
Watch holder variants for different strap lengths
All components come from German production
Share
View full details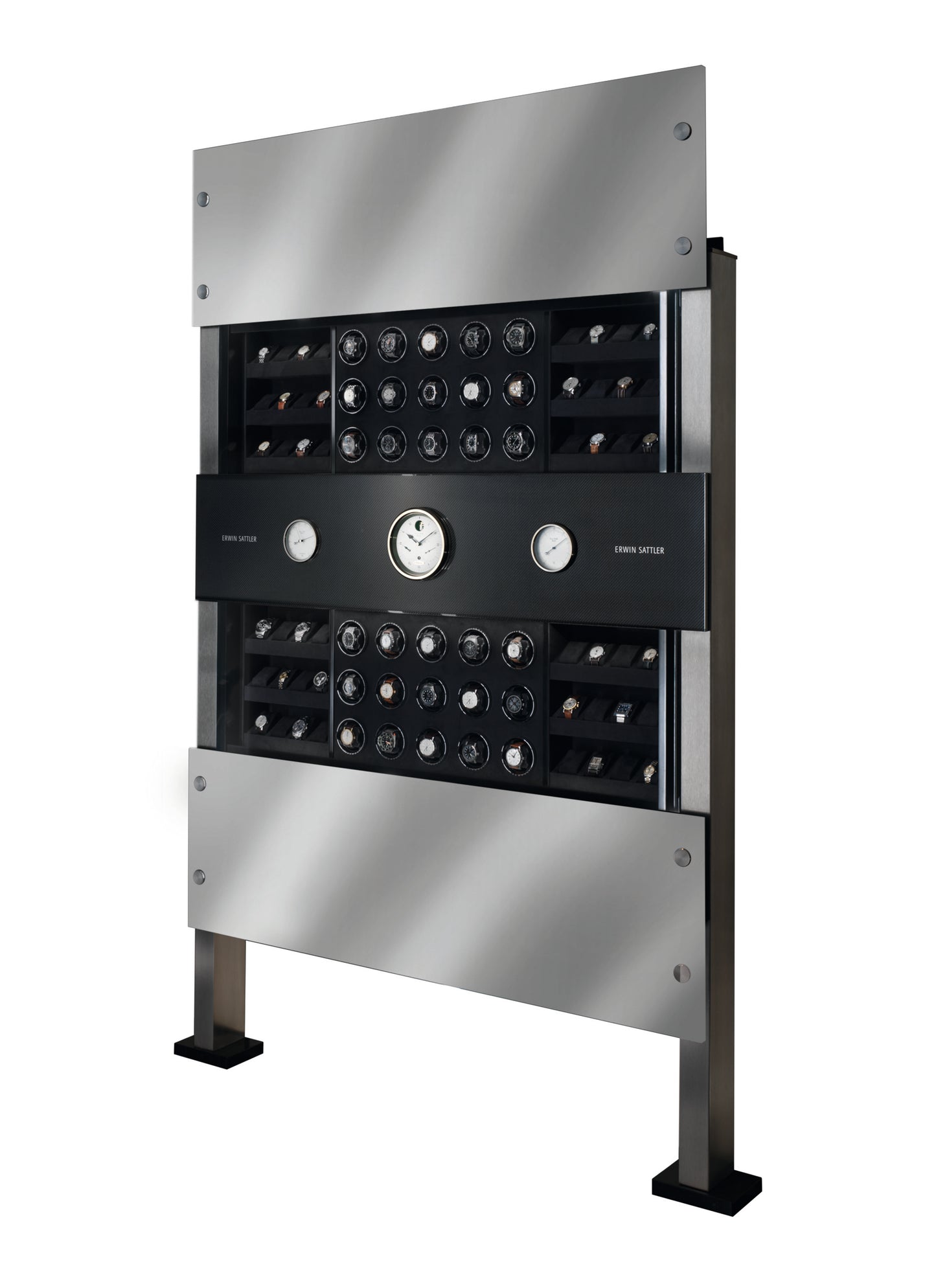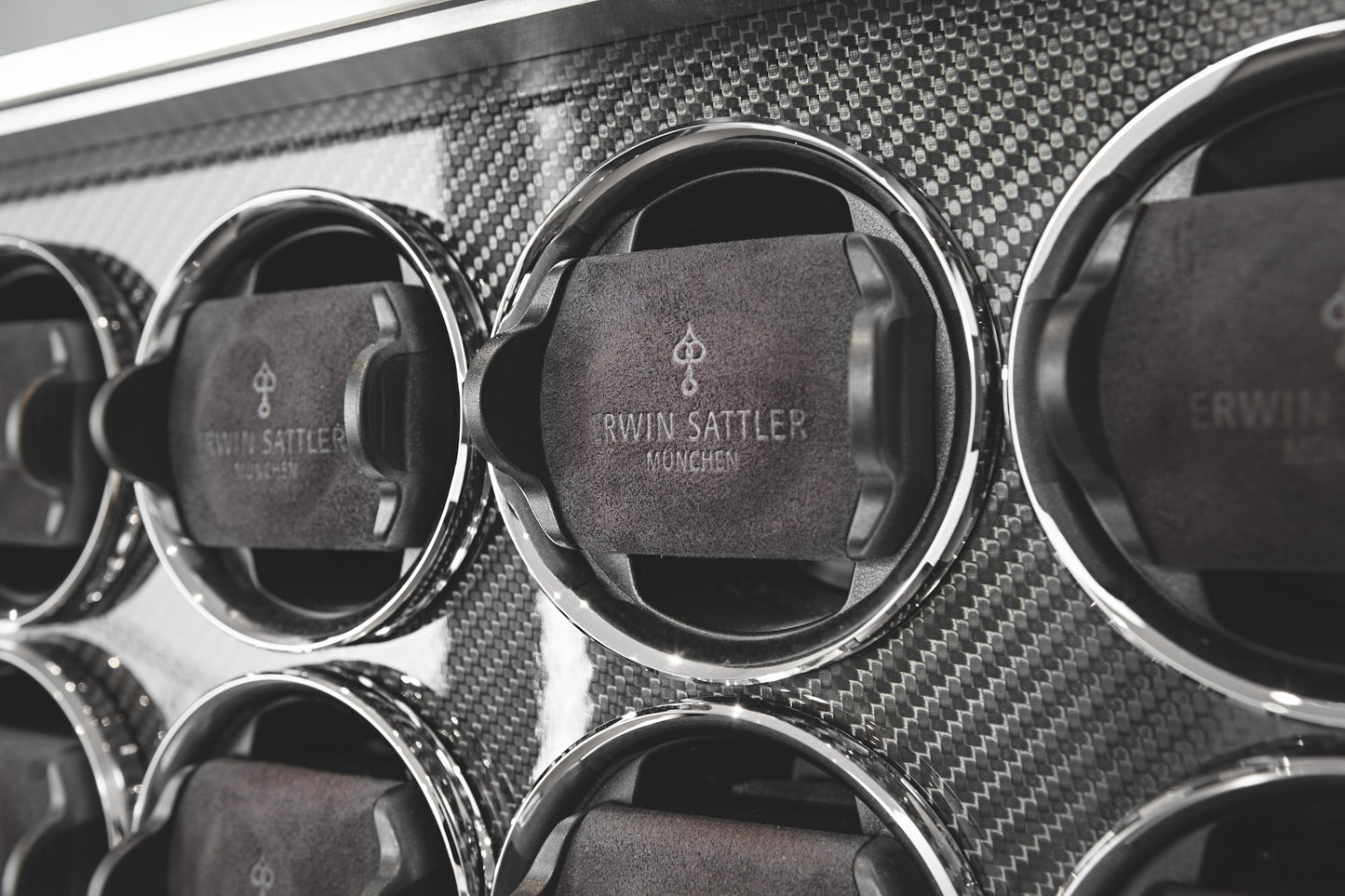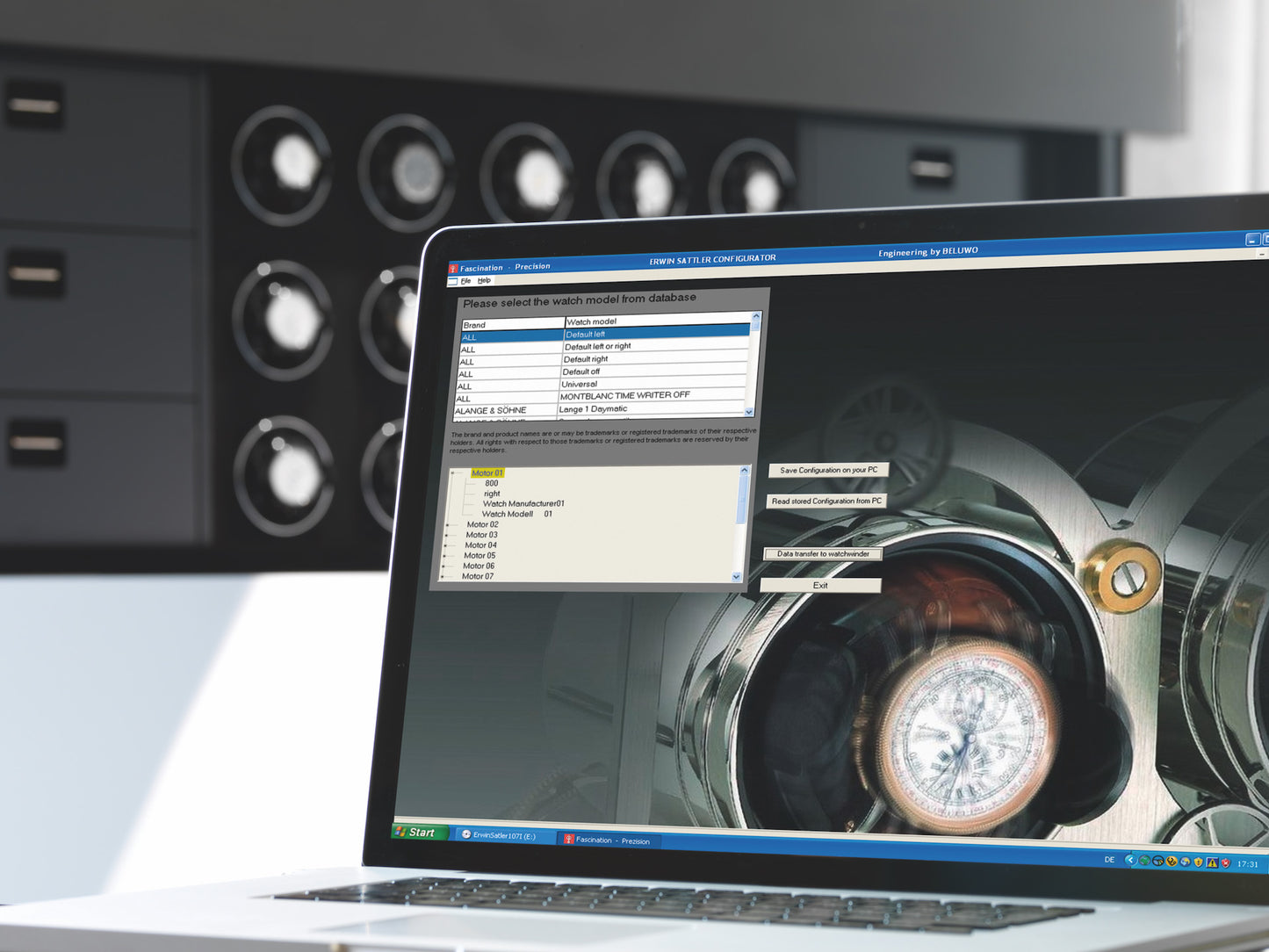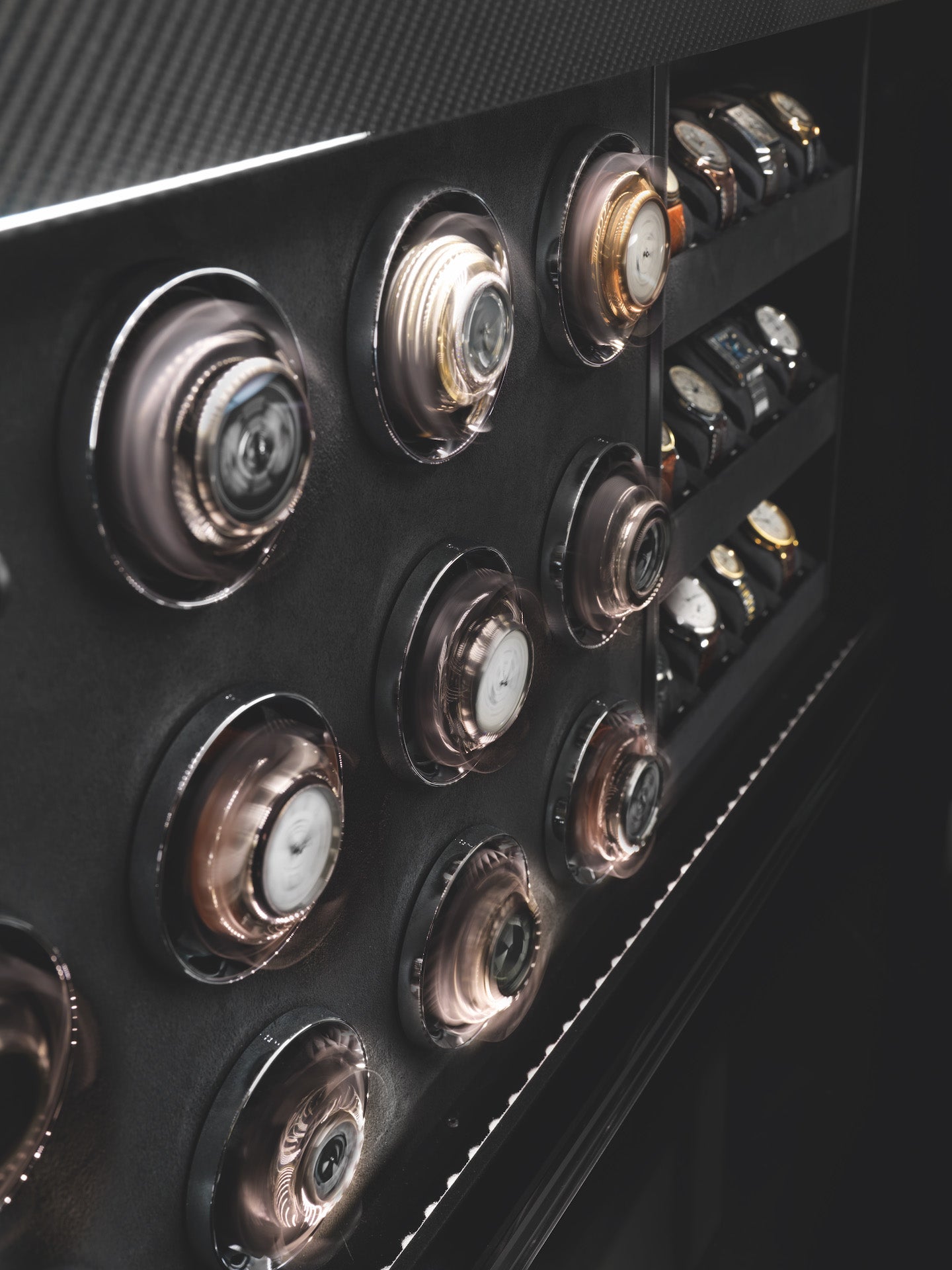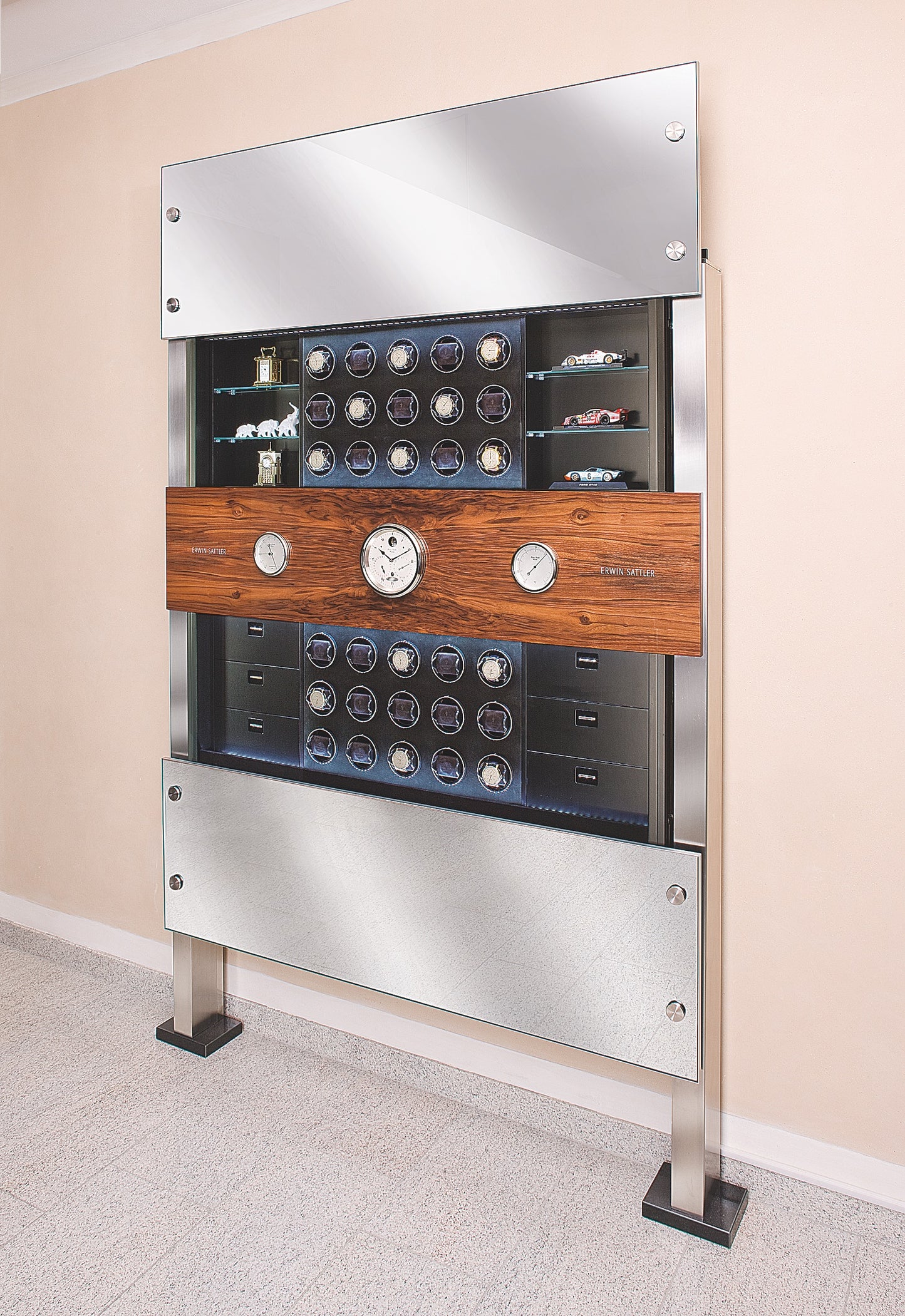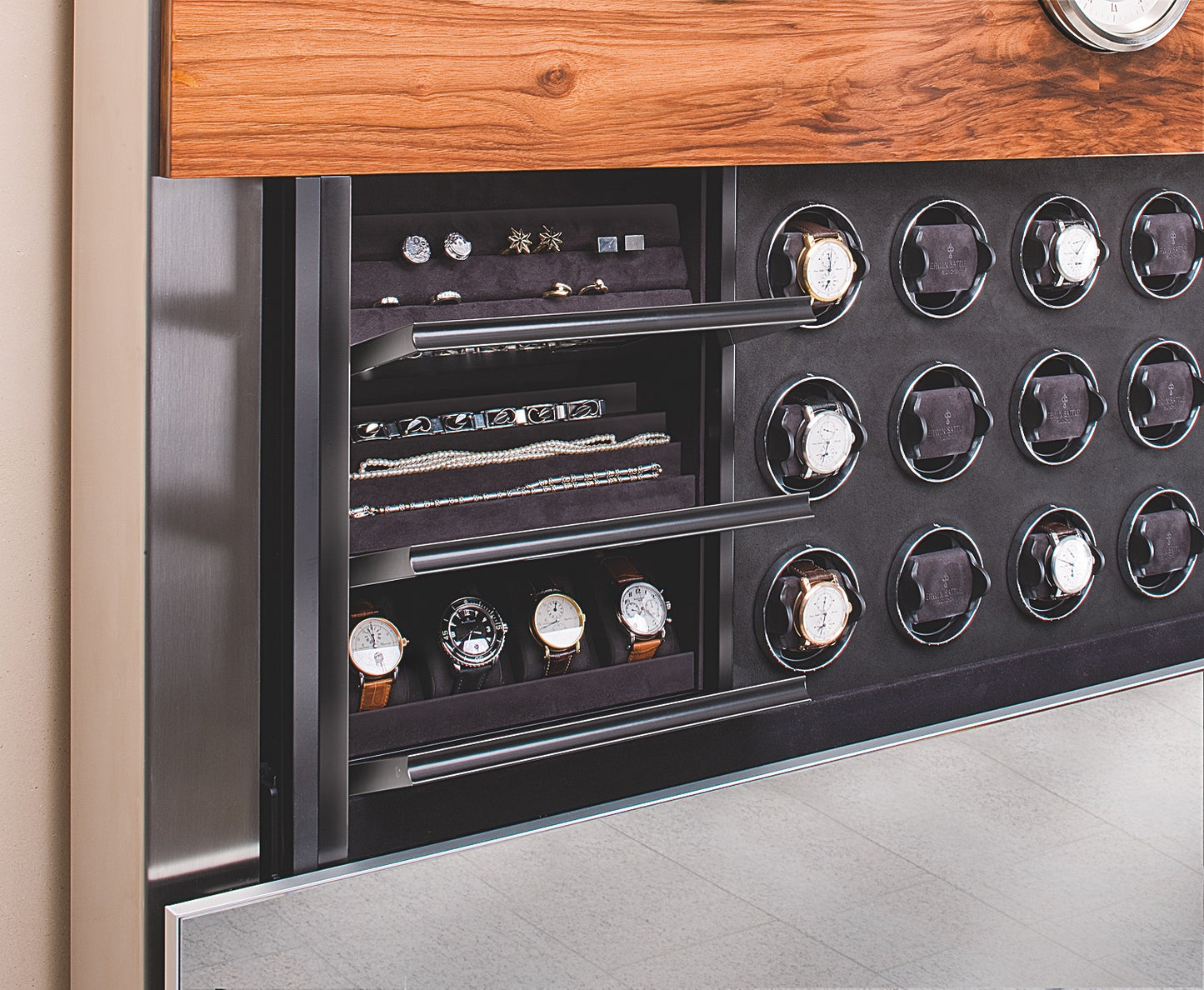 Treasures are kept safe and hidden inside a fascinating and impressive precision pendulum clock
The Troja Sonata M, a precision pendulum clock with half-hour impact mechanism and moon phase display. As an imposing grandfather clock, it can also hide the most secret treasures … In addition, the video also shows the Secunda Sonata, the counterpart as a classic precision pendulum clock for the wall.