Erwin Sattler
Regular price
$16,400.00 USD
Regular price
Sale price
$16,400.00 USD
Unit price
per
Sale
Sold out
FINE AND ELEGANT LINES – DESPITE ELABORATE DESIGNS: THE OPERA IS A TIMELESSLY BEAUTIFUL TABLE CLOCK
Desk, mantel and table clocks have been a staple of upmarket, tasteful interior design for centuries. Their appearance was always influenced for one by the style of their era and for another by their intended use, with either decorative or functional aspects dominating. During the Renaissance, table clocks were equipped with numerous calendar and other astronomical displays in addition to the hands showing the hours and minutes.
Sophisticated art connoisseurs used them to demonstrate and impress with their interest in the progression of science. Erwin Sattler builds on this long tradition today. The focus is on exquisite craftsmanship and technical innovation coupled with contemporary design – and the manufacture's usual high standards of quality always apply. What is more, these clocks are simply irresistibly beautiful.
As a desk or mantel clock, whether in the office or surrounded by valuable paintings, the Opera is ideal as a functional accessory. The movement is protected only by glass. So it gives a free insight into the movement with the fine gears. On a black wooden base, equipped with metal inlays, the glass construction is held only by four chrome-plated brass strips, giving the impression that it is floating.On the basis of a gear train developed in the manufactory, the watchmakers realized their vision of a reliable, low-maintenance and long-lasting table-clock movement.
A mechanical spring force compensation by fusee and steel cable provides relief when the stored in a tension spring driving force over the course of 15 days continuously decreases. An elaborate process that makes the Opera technically a particularly valuable timepiece. Such a watch complies with all claims to the traditional watchmaker craft. It is classic and discreet, not intrusive and yet the highlight in the room.
HIGHLIGHTS
Dial with skeletinsation
Hand-painted moon phase, date display and a power reserve of 15 days
Winding key can be found in a small drawer in the bottom of the case
Share
View full details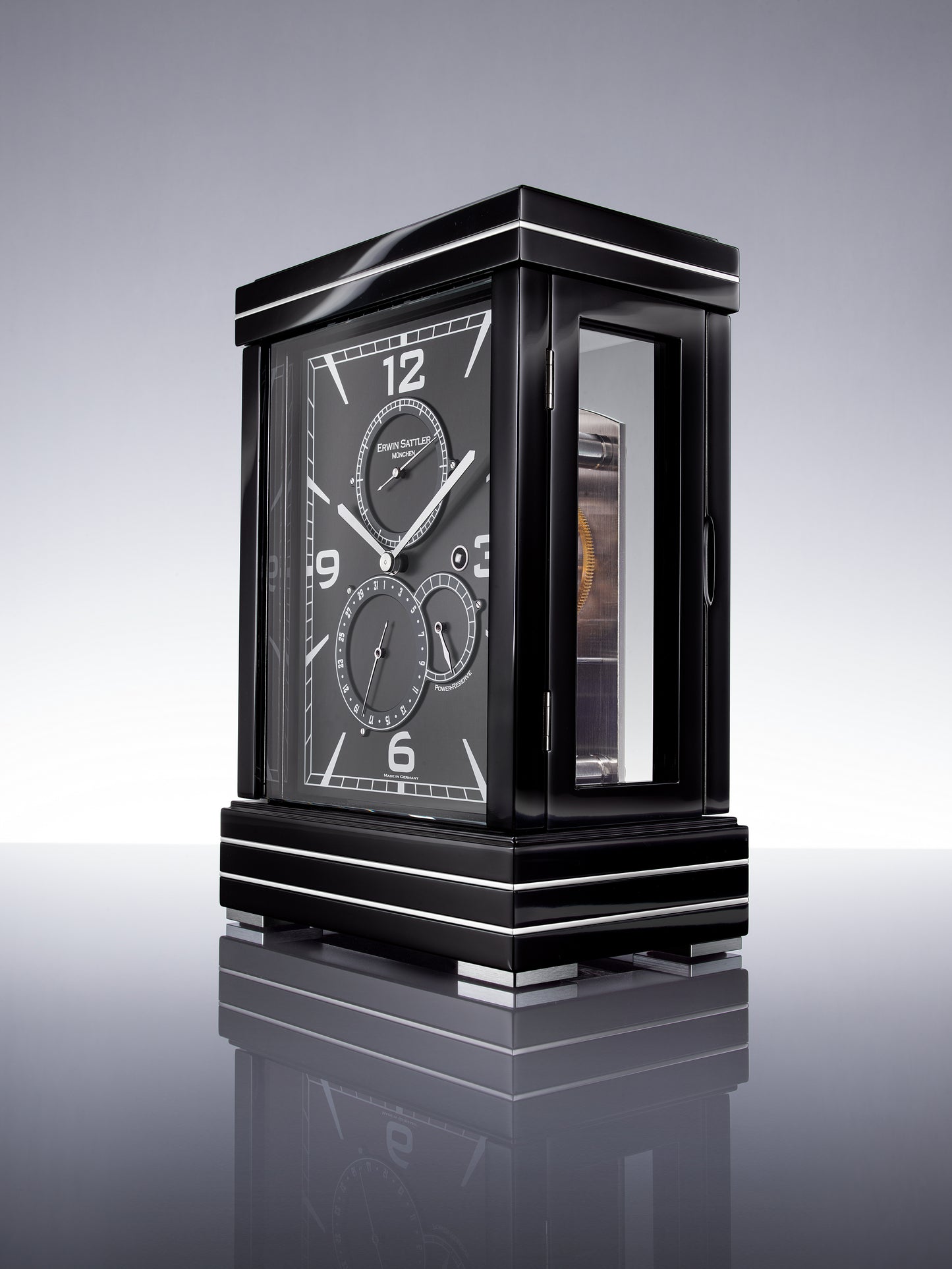 Treasures are kept safe and hidden inside a fascinating and impressive precision pendulum clock
The Troja Sonata M, a precision pendulum clock with half-hour impact mechanism and moon phase display. As an imposing grandfather clock, it can also hide the most secret treasures … In addition, the video also shows the Secunda Sonata, the counterpart as a classic precision pendulum clock for the wall.