Erwin Sattler
Regular price
$10,200.00 USD
Regular price
Sale price
$10,200.00 USD
Unit price
per
Sale
Sold out
PRECISE TECHNOLOGY, CLEAR LINES, FASCINATING INSIGHTS –
The new Operetta table clock allows an unobstructed view into every movement detail through six panes of glass.
Ten milled, grounded and, last but not least, gold-plated gears work tirelessly in 12 high-precision ball bearings, 11 rubies are responsible for the smooth function of the Swiss lever escapement and screw balance, the mainspring, which by means of a stop work delivers a constant force over the entire 8 days power reserve to the gear train…. All of these are typical features that define a manufacture movement from Erwin Sattler.
A fine strike when passing the 60th minute, in French "en passant", that´s the so-called passing strike, sounds one times every full hour and completes, with the hand-painted moon disc, this horological composition.
This special gem is protected by a two-part glass case, which provides a dignified framework, with the help of polished and chrome-plated brass bars with a black varnish base, and cleverly draws the viewer's gaze to the skeletonized dial and back plate.
Of course, all settings, from the moon phase to the regulation and the time, can be made effortlessly from the rear.
Whether in the office or in a cozy home, the Operetta fits in tastefully with any ambience. It attracts the viewer's gaze and creates a pleasant atmosphere of relaxation.
HIGHLIGHTS
The glass case construction allows a 360 ° view of the movement
Passing strike on bell
Hand painted moon phase
Share
View full details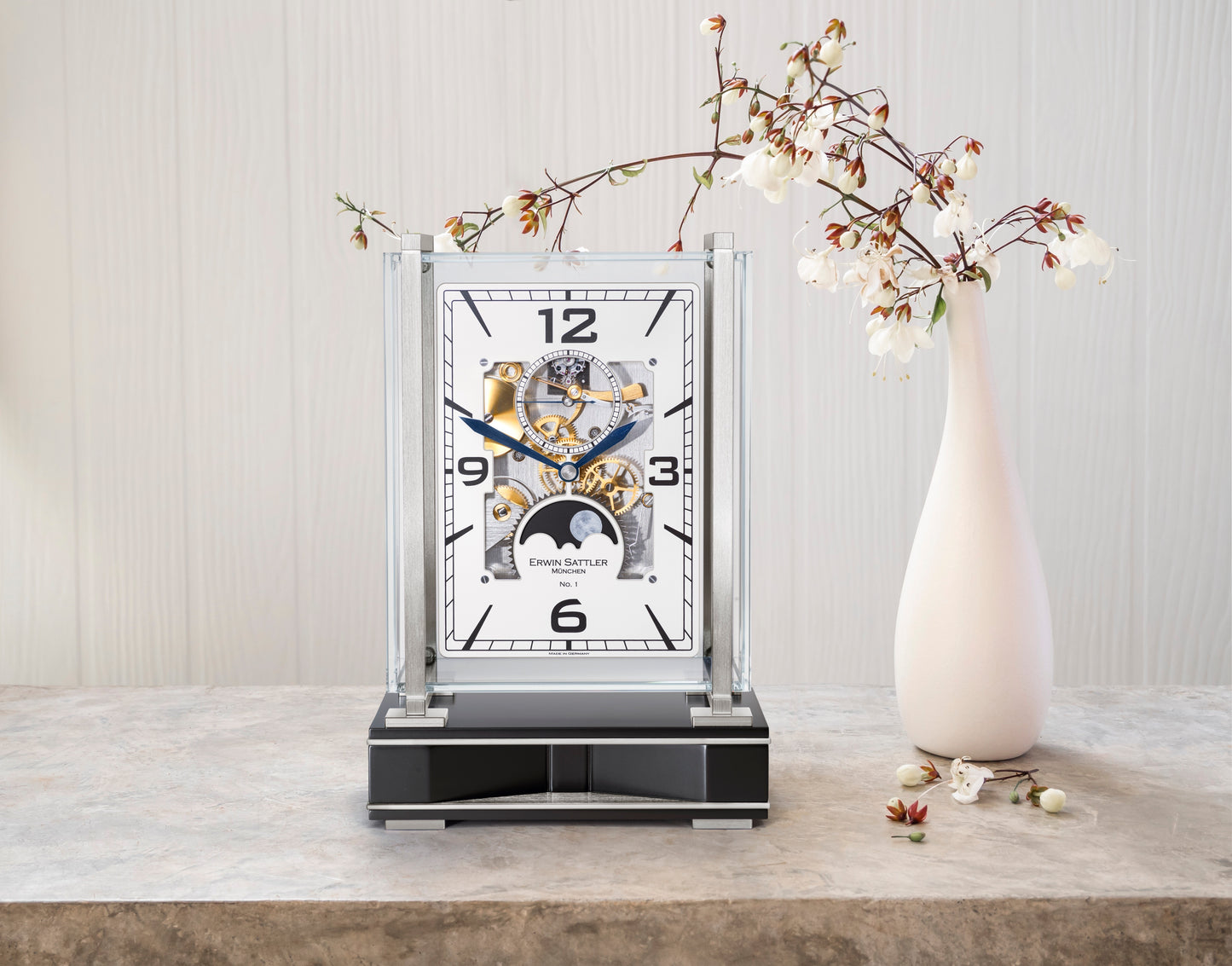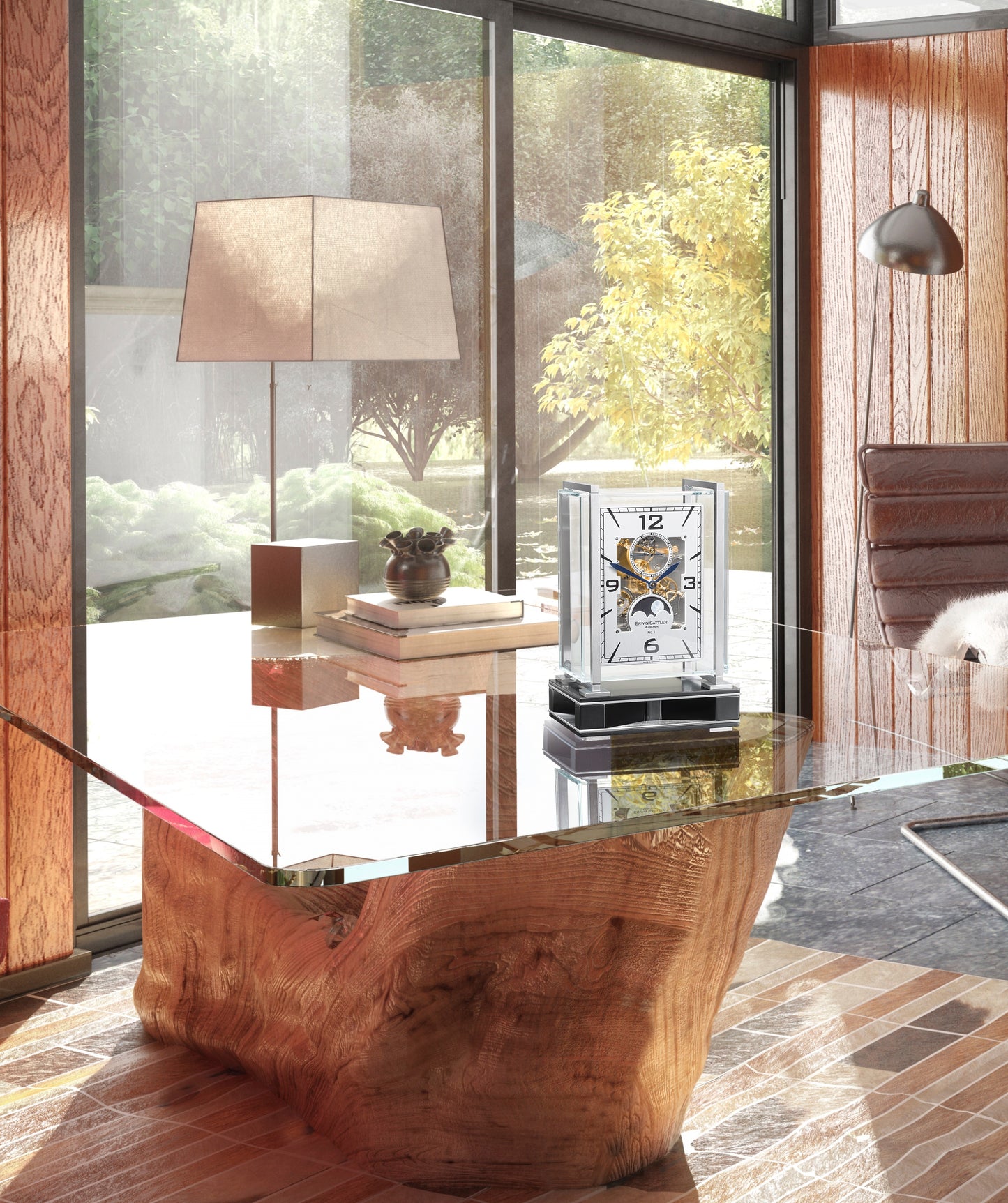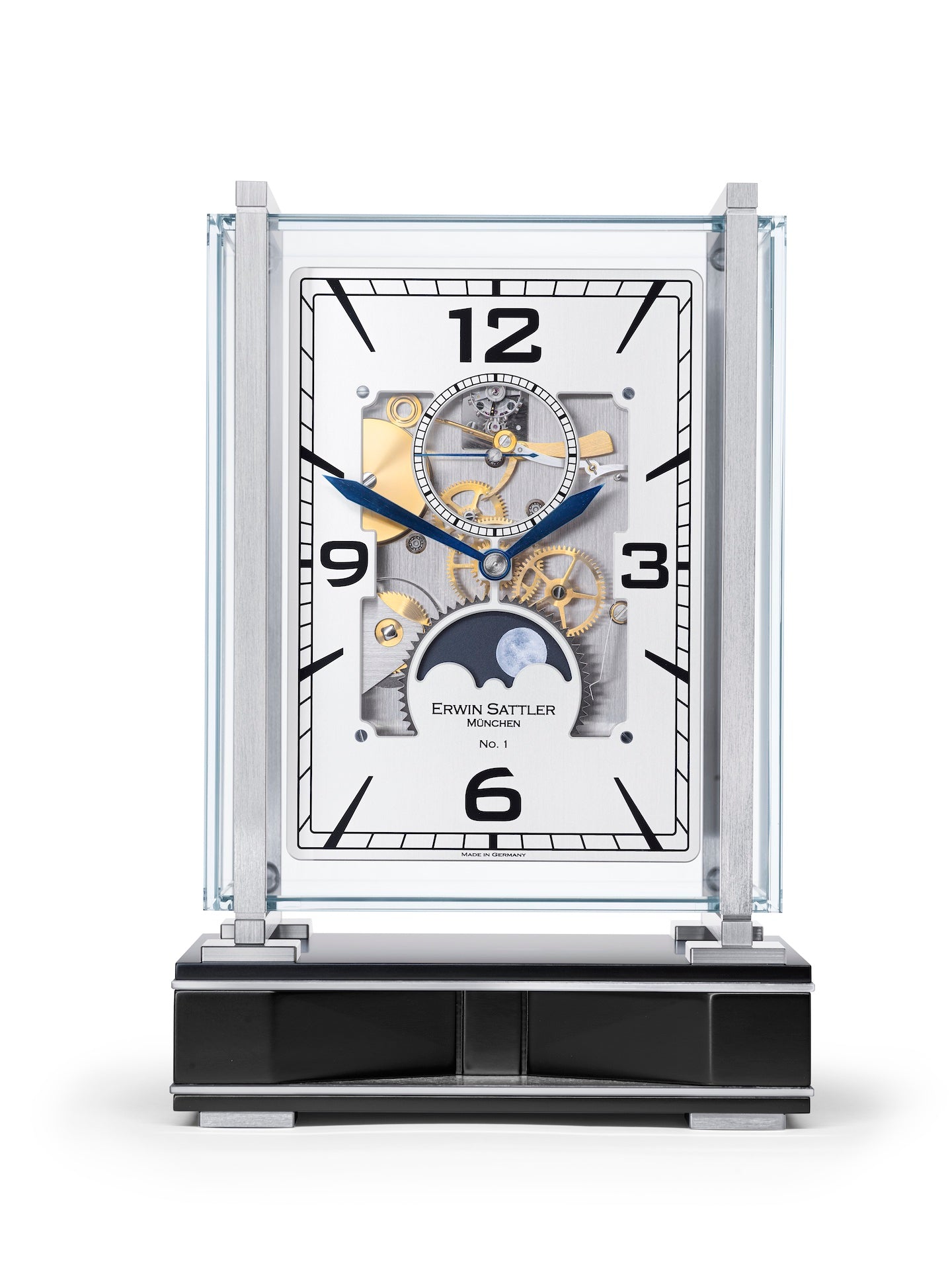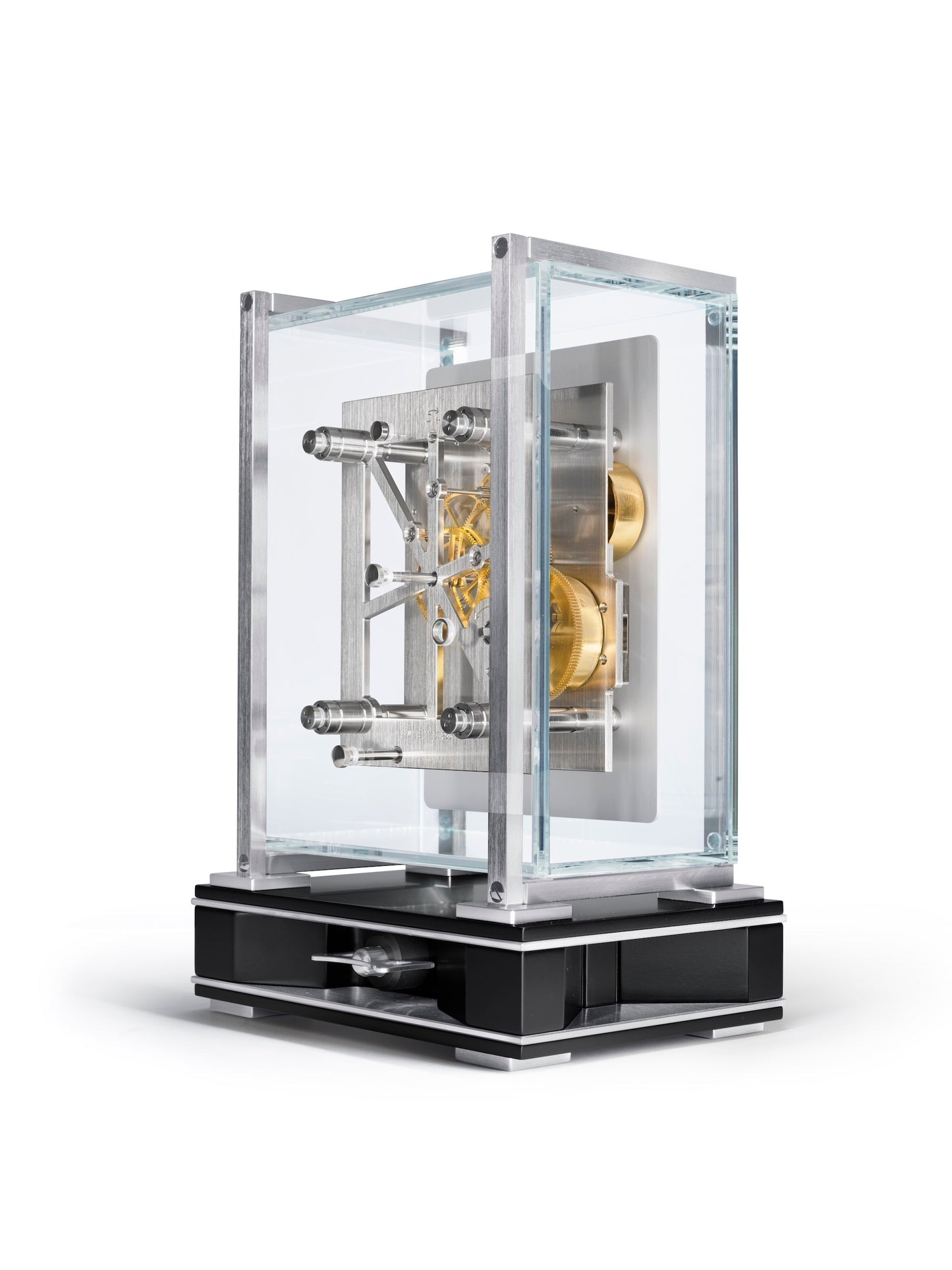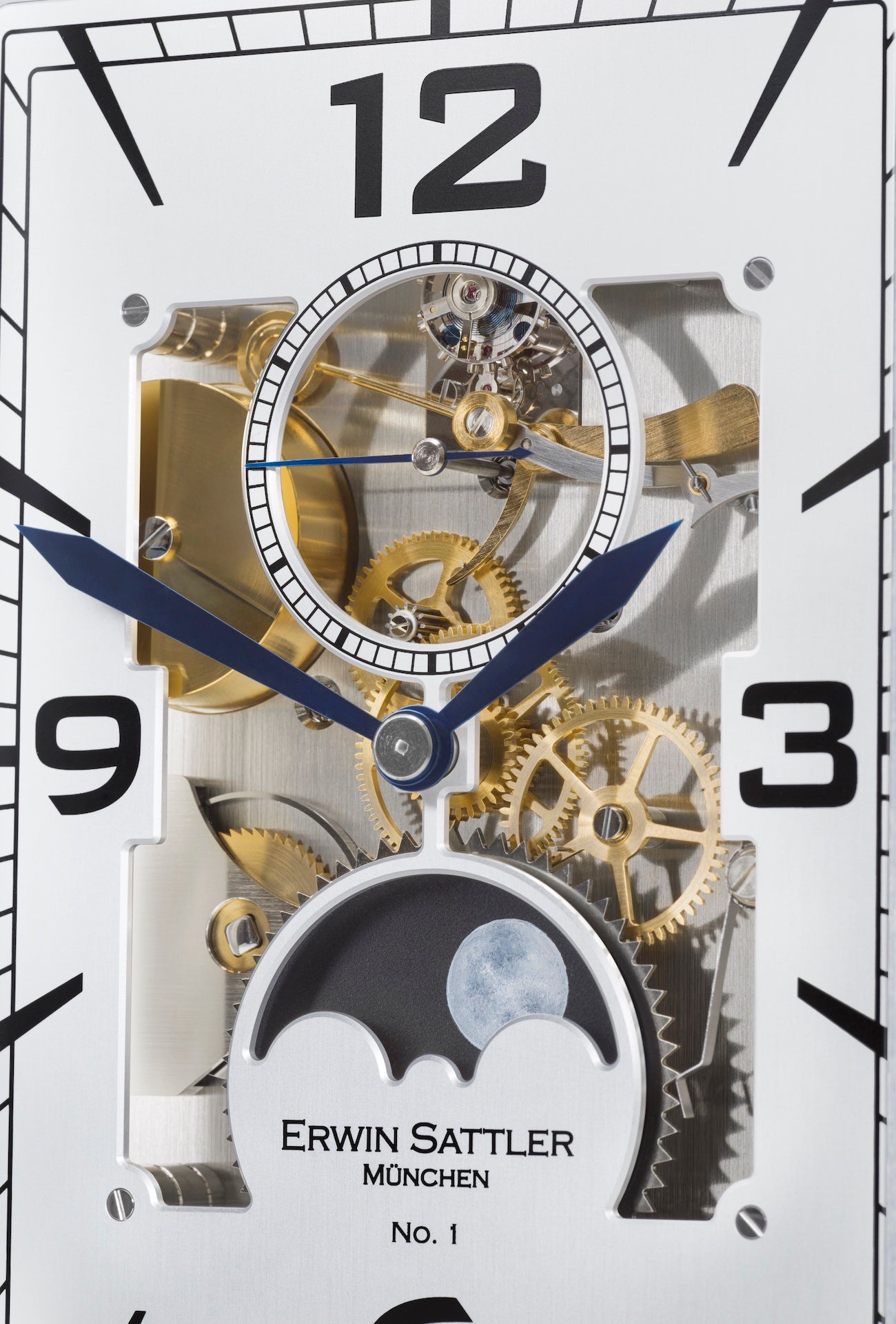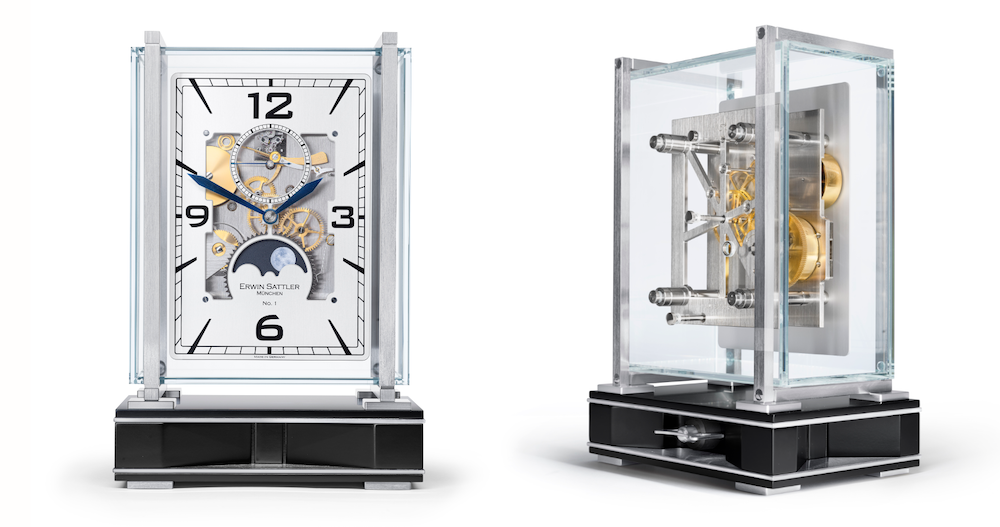 Treasures are kept safe and hidden inside a fascinating and impressive precision pendulum clock
The Troja Sonata M, a precision pendulum clock with half-hour impact mechanism and moon phase display. As an imposing grandfather clock, it can also hide the most secret treasures … In addition, the video also shows the Secunda Sonata, the counterpart as a classic precision pendulum clock for the wall.