Erwin Sattler
Regular price
$113,000.00 USD
Regular price
Sale price
$113,000.00 USD
Unit price
per
Sale
Sold out
THE TROJA 20 COMBINES CHARMING AESTHETICS WITH FUNCTIONAL PERFECTION AND EXPRESSES A PARTICULAR STYLE OF LIVING
No timepiece embodies the tradition of clock-making craftsmanship more than a longcase clock. These clocks have the character of a veritable piece of furniture and have always been synonymous with dignity and comfort. The deliberate ticking every second conveys peace and security, and invites you to take a break from the hectic daily grind, which is marked by a lack of time. Due to its impressive size when compared to other timepieces, it is extremely important that the longcase clock fits perfectly into your living environment.
We have completely redesigned our popular Troja 16 to not only make it significantly flatter but also give it a harmoniously modern and elegant appearance. Standing at 210 cm tall, its distinctive look is unmissable yet able to blend effortlessly into any surroundings at the same time.
Like its predecessor, the new Troja can be fitted with one of Sattler's three proven precision movements: The Classica Secunda 1995, the Secunda Lunaris or the Secunda Sonata. With an accuracy of one to two seconds a month, the Troja 20 offers impressive mechanical performance too.
The back part of the case contains ten precision watch winders on the left and another ten on the right, which can also be extended outwards on each side if desired. This part can be controlled – and each individual winder programmed – using a device with wireless Internet capability (tablet or smartphone). The database that comes with the clock contains the parameters for more than 8000 wristwatch models. This means that each wristwatch receives exactly the amount of energy recommended by the manufacturer. To move the watch winders out, the Troja 20 also comes equipped with a high-tech fingerprint reader in a drawer in the base of the case.
A small safe hidden behind two closed doors in the base of the clock can be used to store other collectibles and treasures such as necklaces, rings and manually wound wristwatches.
Case
Black varnish with carbon cassette, metal inlays and carbon inlays; Height: 210 cm, width: 65 cm (watch winder extended: 98 cm), depth: 38 cm; Requires wall mounting at the dial height; Door with magnetic catch; LED lighting in the cassette; Mood lighting in the back wall of the case; Hidden drawer with integrated fingerprint reader
Crystals
Anti-reflective mineral glass, U-shaped glass glued on a mitre
Base
Clock base with safe
Winder
20 precision watch winders, sideways extendible,
can be programmed individually via Wifi, 20 high-power motors, 12 o'clock position

Movement
Sattler calibre 1965
Power reserve
30 days
Drive
3100 g weight with pulley
Oscillator
Invar pendulum (diameter 12 mm), temperature and air-pressure compensation by 5 aneroid capsules with air pressure display in mm/Hg

Ball bearings
5 precision ball bearings
Jewel bearings
11 in screwed-in chatons, 2 agate anchor pallets
Dial
Silver-plated, engraved, cutaway in seconds dial,
visible escapement (Graham)

Beat rate
3.600/h = 60/min
Safe
According to EN 1143-1 resistance grade I
- Lock: electronic locking system
- Door hinge: DIN right
Dimensions:
- Ext.dimension: H/B/T 405/400/270 mm
- Int. dimensions: H/B/T 325/311/155 mm
- Doorway: H/B 325/311 mm
- Weight: aprox. 42 kg

Weight
155 kg
Share
View full details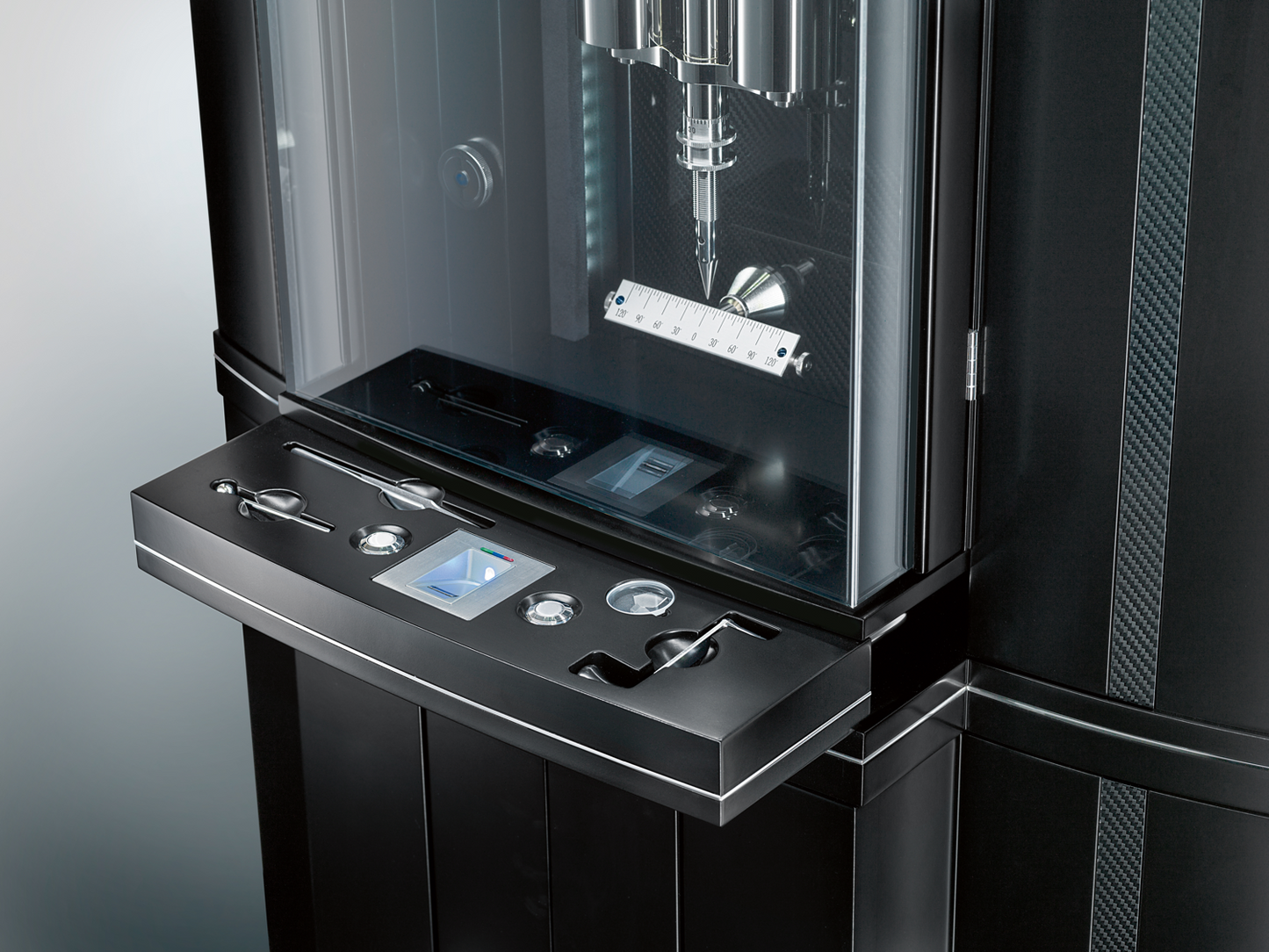 Treasures are kept safe and hidden inside a fascinating and impressive precision pendulum clock
The Troja Sonata M, a precision pendulum clock with half-hour impact mechanism and moon phase display. As an imposing grandfather clock, it can also hide the most secret treasures … In addition, the video also shows the Secunda Sonata, the counterpart as a classic precision pendulum clock for the wall.