Erwin Sattler
Regular price
$178,000.00 USD
Regular price
Sale price
$178,000.00 USD
Unit price
per
Sale
Sold out
WITHOUT DOUBT, THE MOST ELABORATE TIMEPIECE IN THIS SERIES IS THE TROJA OPUS TEMPORIS, WITH ITS UNIQUE MOVEMENT – A CHARMING LOOK COMBINED WITH FUNCTIONAL PERFECTION
A great pairing – the safety-loving Troja with the magnificent Opus Temporis. This combination brings together ostensibly incompatible aspects into one versatile timepiece which leaves nothing to be desired.
This masterpiece from the Erwin Sattler manufacture is not just a precision clock according to the classical definition but, with the Opus Temporis, it also has a "perpetual calendar" with three-dimensional, hand-painted moon phase. This turns in front of a funnel that is studded with ten brilliant-cut diamonds and impressively illustrates the night sky. From a technical point of view, its calculation and conversion are also fascinating, and only have to be corrected by one day every 120 years. Furthermore, this fine longcase clock delights owners with its sonorous half-hour strike.
Its character is complemented by the features of the Troja. When you press the remote control, 16 programmable watch winders move forward behind the pendulum clock. The database that comes with the clock contains the parameters for more than 8,000 wristwatch models. Each wristwatch thus receives exactly the amount of energy that is recommended by the manufacturer. A safe, which is hidden behind a closed door in the base of the clock, has drawers in which to store other collectibles and treasures such as chains, rings and manual winding wristwatches.
HIGHLIGHTS
30-day power reserve
Silver-plated dial with "perpetual calendar" and handpainted moon phase display, studded with brilliant-cut diamonds
Harmonious-sounding half-hour strike train
Hidden safe in the base with electronic key lock
16 extendible, individually programmable watch winders
Equipped with the movement from the Opus Temporis
Watch holder variants for different strap lengths
Case
- Black varnish with macassar cassette and metal inlays
Height: 222 cm, width base: 47.5 cm, (watch winders extended: 72 cm), depth: 43 cm,
requires wall mounting at the dial height
Door with magnetic closure
Weight
250 kg
Crystals
Mineral glass
Movement
Sattler calibre 2050
Power reserve
30 days
Drive
Weight going train 6,800 g tungsten with pulley
with ball barings, weight strike train 6,800 g
tungsten with pulley with ball barings
Oscillator
Invar pendulum Ø 12 mm, temperature and
air-pressure compensation, twin barometer
Ball bearings
48 precision ball bearings
Jewel bearings
4 in screwed-in chatons, 2 agate anchor pallets
Dial
Silver-plated, quartered, three-dimensional
moon phase with 10 diamonds (0.10 ct),
funnel-shaped starry sky, perpetual calendar,
sweep second hand
Base
Clock base with safe
Winders
16 precision watch winders, sideways extendable,
individually programmable via WLAN, 16 high-power motors, 12 o'clock position
Strike train
Half-hour rack strike train with tubular gong,
strike train silencer
Beat rate
3.600/h = 60/min
Safe
Euro/VdS Category l
- Insurance cover for private use up to €65,000.00
- Insurance cover for commercial use up to €20,000.00
- Lock: electronic locking system
- Door hinge: DIN right
Dimensions:
- Ext.dimension: H/B/T 610/405/340 mm
- Int. dimensions: H/B/T 504/312/221 mm
- Doorway: H/B 504/265 mm
- Weight: aprox. 110 kg
Share
View full details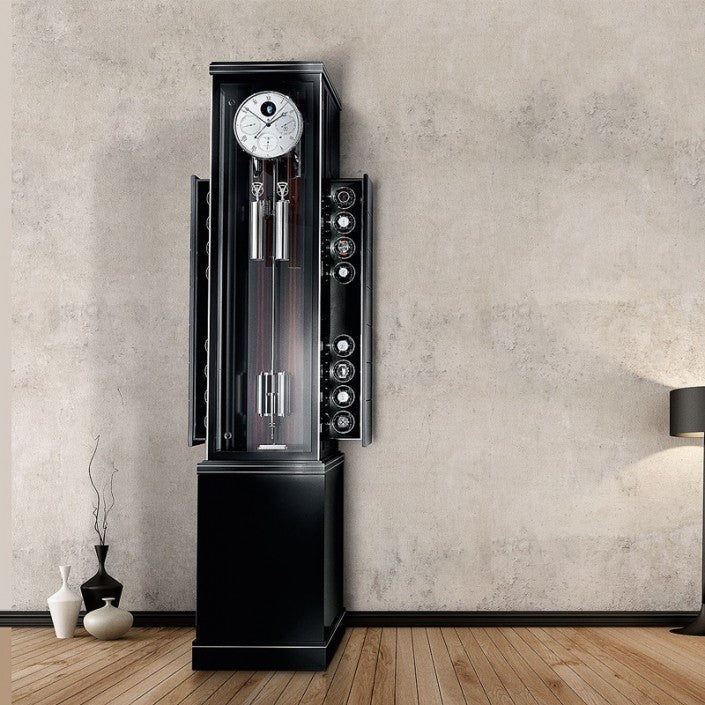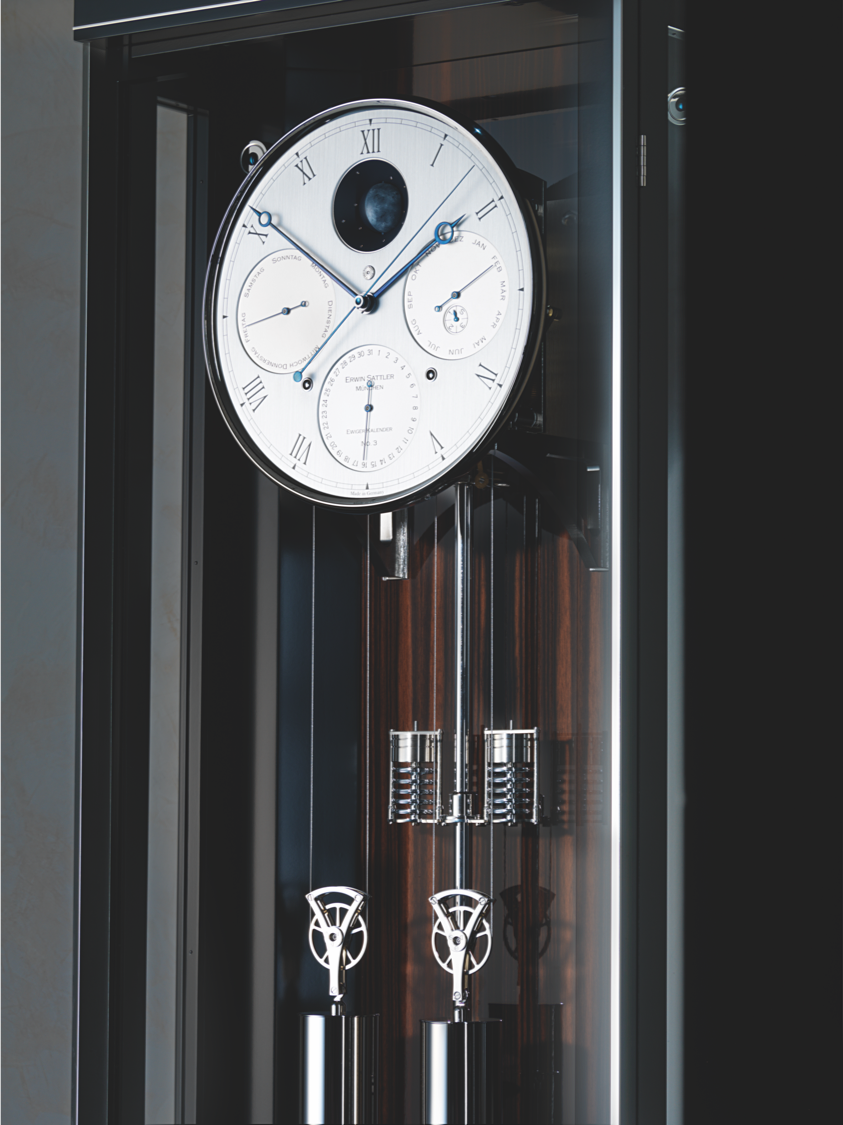 Treasures are kept safe and hidden inside a fascinating and impressive precision pendulum clock
The Troja Sonata M, a precision pendulum clock with half-hour impact mechanism and moon phase display. As an imposing grandfather clock, it can also hide the most secret treasures … In addition, the video also shows the Secunda Sonata, the counterpart as a classic precision pendulum clock for the wall.