Erwin Sattler
Regular price
$132,000.00 USD
Regular price
Sale price
$132,000.00 USD
Unit price
per
Sale
Sold out
TREASURES ARE KEPT SAFE AND HIDDEN INSIDE A FASCINATING AND IMPRESSIVE PRECISION PENDULUM CLOCK
Treasures are kept safe and hidden inside a fascinating and impressive precision pendulum clock. According to Greek legend, the ancient, Anatolian city of Troy (Troja) was outsmarted by Greek warriors. Hidden in the stomach of a wooden horse, they were able to get behind the fortified city walls undiscovered and, following their clever deception, conquered the city. The Troja 16 M precision pendulum clock owes its name to this historic example because its body also conceals some secrets.
The base of the clock houses a safe which provides space for all kinds of treasures. To make full use of the depth that is gained here, 16 remote-controlled watch winders are also housed in the rear section of the case. Along with their technology partner, Beluwo®, the Erwin Sattler manufacture has developed new, large wristwatch-holders which provide enough space for larger timepieces. Each unit is equipped with its own precision motor. There is no remote control anymore. Controlling works only via Bluetooth, any smartphone or tablet, or via the operating element in the integrated tray in the housing. The Troja 16 M is equipped with the extraordinary movement from the Classica Secunda 1995, whose silver-plated dial emphasises the value of the lovingly handcrafted, domed hands. The pendulum, at a stately length of approximately one metre, swings once every second in an elegant and calming cadence.
The Troja is available with four different movements: Troja 16 M with the movement from the Classica Secunda 1995, Troja Lunaris M with the movement from the Secunda Lunaris, Troja Sonata M with the movement from the Secunda Sonata, Troja Opus Temporis with the movement from the Opus Temporis.
HIGHLIGHTS
Pendulum clock with second, Pendulum with temperature air-pressure compensation,
16 extendible watch winders
Hidden safe in the base, fingerprintreader
Watch holder variants for different strap lengths
Case
Height: 218 cm, width: 48 cm, (watch winders extended: 70 cm), depth: 39 cm,
requires wall mounting at the dial height
Door with magnetic closure
Weight
245 kg
Crystals
Bevelled mineral glass
Movement
Sattler calibre 2015
Power reserve
30 days
Drive
Weight going train 4,500 g with pulley with ball
bearings, weight strike train 5,000 g with pulley
with ball bearings
Oscillator
Invar pendulum Ø 12 mm, temperature and
air-pressure compensation, twin barometer
Ball bearings
20 precision ball bearings
Jewel bearings
4 in chatons, 2 agate anchor pallets
Dial
Silver-plated, hand-painted moon disc, cutaway
in seconds dial, visible escapement (Graham)
Base
Clock base with safe
Winders
16 precision watch winders, sideways extendible,
individually programmable via WLAN, 16 high-power motors, 12 o'clock position
Strike train
Half-hour rack strike train with gong, strike train silencer
Beat rate
3.600/h = 60/min
Safe
Euro/VdS Category l
- Insurance cover for private use up to €65,000.00
- Insurance cover for commercial use up to €20,000.00
- Lock: electronic locking system
- Door hinge: DIN right
Dimensions:
- Ext.dimension: H/B/T 610/405/340 mm
- Int. dimensions: H/B/T 504/312/221 mm
- Doorway: H/B 504/265 mm
- Weight: aprox. 110 kg
Share
View full details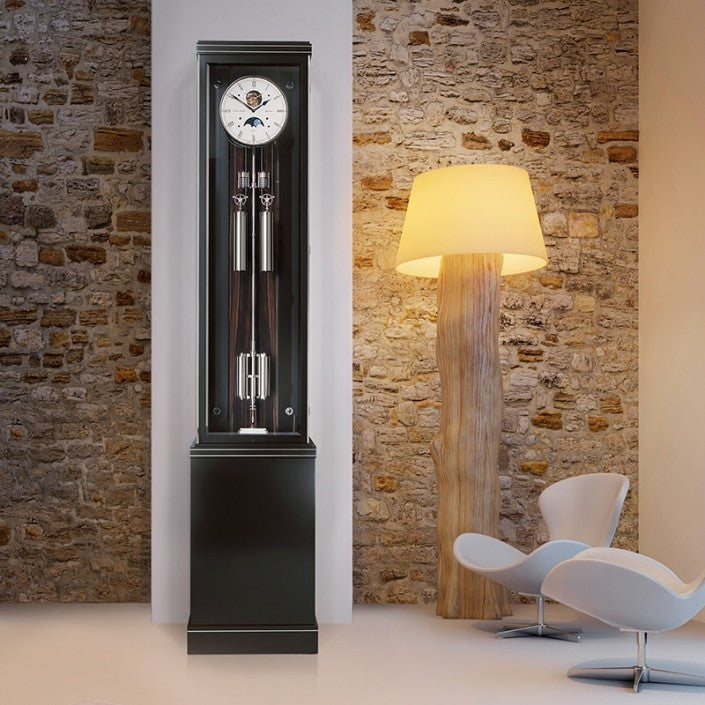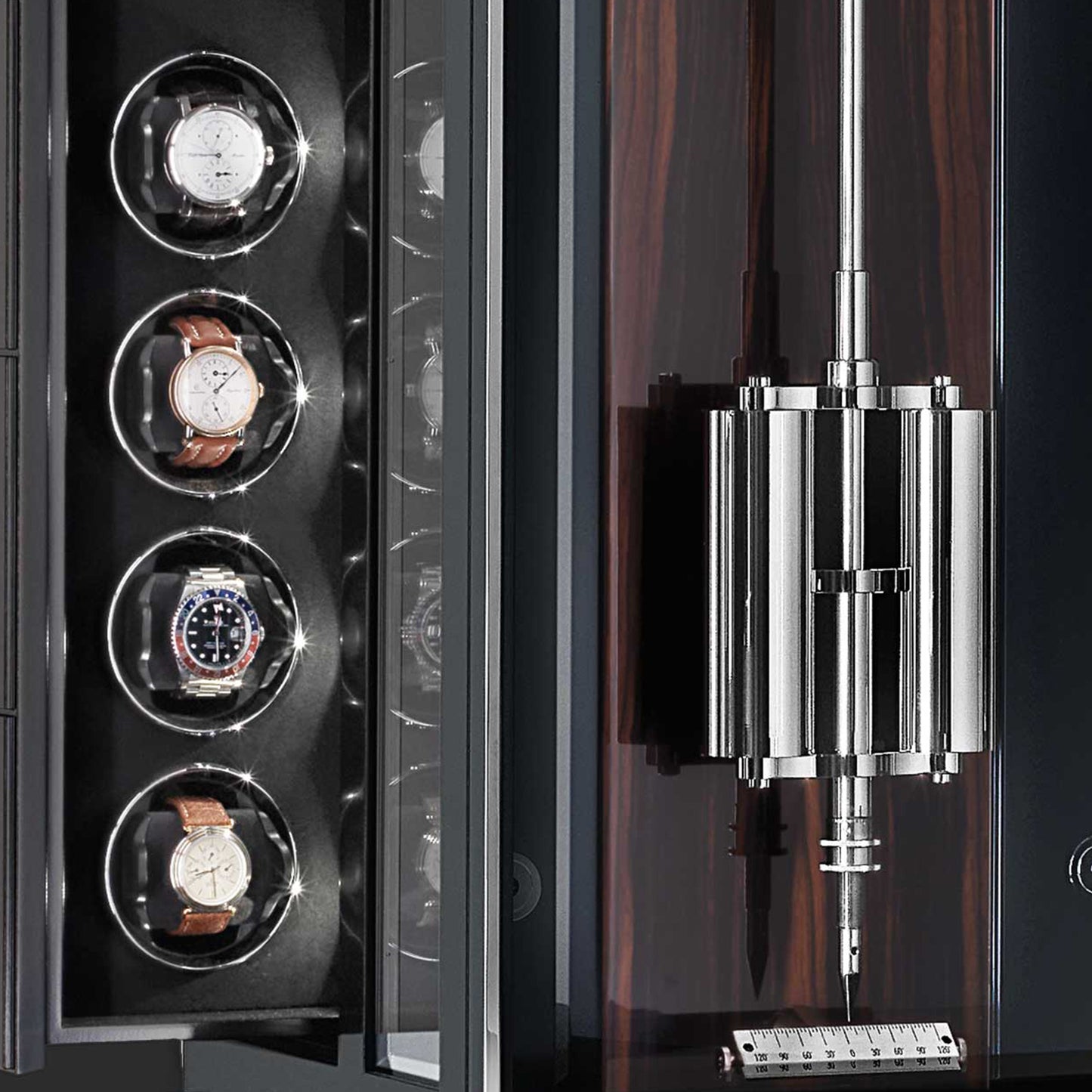 Treasures are kept safe and hidden inside a fascinating and impressive precision pendulum clock
The Troja Sonata M, a precision pendulum clock with half-hour impact mechanism and moon phase display. As an imposing grandfather clock, it can also hide the most secret treasures … In addition, the video also shows the Secunda Sonata, the counterpart as a classic precision pendulum clock for the wall.